Same Sex Weddings
LOVE IS LOVE……
Finally the day has come and Same Sex Marriage is now LEGAL in Australia and  and it would be my absolute pleasure to help you.
With years of experience, compassion and a sense of fun, together we could create a fabulous ceremony.
So if this is something that appeals to you then I'm happy to help create a memory that you can look back on in years to come with a smile.
Let's have a bit of fun….  I will even dust off the sparkles and the high heals for such a special occasion if you want, or we can simply gather with a few of your closest friends and celebrate your love without all the fuss.
Go on…. Say 'I Do' With Lou…..  you'll be glad that you did !!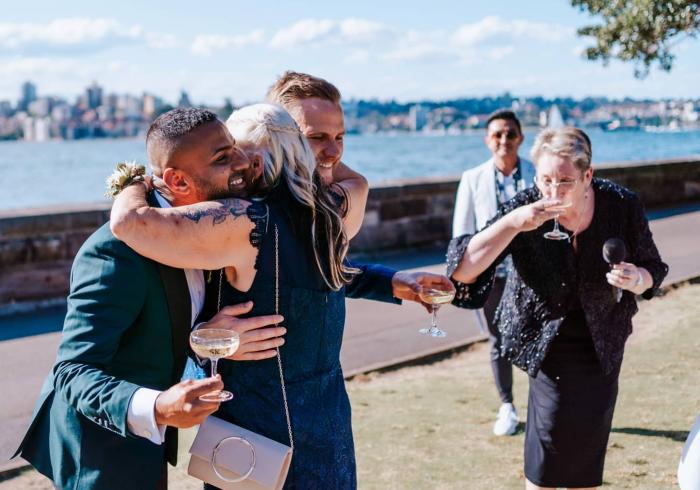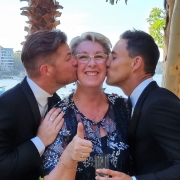 Testimonial
A very fortuitous google search for 'same-sex marriage celebrant' lead us to Louise's webpage.  Having decided on a Sunday – at midday on the 25th of November – that we wanted to be married a month later on Boxing Day, my fiancé and I were left with hours to find someone who'd be prepared to lodge our intent to marry immediately and who would be prepared to marry two men on a public holiday.
Louise agreed to do so with absolute enthusiasm and from our first phone conversation Louise felt like an old friend – sensitive, funny, charming and down to earth.  Our ceremony was perfect. Louise has a tender light-hearted style that beams with sincerity – but she was also incredibly professional: our service was completely personalised, Louise taking care of all the fine details.
From taking us out to coffee to get to know us better, to the Questionnaire she used to incorporate special information into the ceremony, to her diverse but easy to use templates to create the perfect vows, to doing all the paper work: it was clear how passionate Louise is about her work which brought such magic to our special day. Our families were blown away by her.
You couldn't get a better celebrant and we cheer to anyone wondering to 'Say 'I Do' With Lou' !!
You will LOVE her….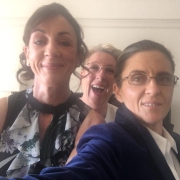 Louise Spedding generously guided us as we prepared for our wedding and brought so much joy to our day.
She is authentic, down to earth, fun, experienced, professional, easy to communicate with, warm and caring.
Louise had lots of wise tips and helped us painstakingly craft a bespoke ceremony to soulfully capture the story of our love.
Louise gave from her heart and elevated our ceremony to the next level.  12 stars!